Top Tips to Amaze Your Customers with the Perfect Packaging
Print packaging has come a long way beyond just a cardboard box. The e-commerce boom has revolutionised the packaging industry. Product wrapping is not just viewed as an option; it has become a dire necessity. The clients are spending stupendous amounts on customising options to create a sense of connection and a spark of enthusiasm among their customers. The buyers are also choosing products that pique their interest and capture their hearts.
Despite the popularity of the attractive wrapping, it does come with its hurdles.
Challenges of Print Packaging Services
Many businesses tend to cut packaging costs, assuming it is the last thing to worry about. If your company is compromising on the quality of shipping and wrapping the product, then you are losing 20% of your customers.
If the look and feel of a product can entice a person to buy it, the same product can discourage customers from purchasing it if the packaging is poor. Aside from appearance, several factors contribute to poor packaging.
Wrong packaging material
If a pair of wine glasses are just bound by a plastic box without any adequate protection at the ends, there is a high probability that they will break during shipment. A sturdy box is required for a fragile product, but a plastic cover would do for a piece of apparel.
Not having a weatherproof casing
Imagine a customer ordering a pack of chocolates during summer for his son's birthday. He is surprised to find that the box of chocolates that arrived is messy and most of them have already been melted. Inserting an ice pack or wrapping in a temperature-controlled box is necessary for items prone to weather changes.
Poor quality tapes
Your shipment might end up in trouble or result in loose ends if it is not taped accurately. Using high-quality tapes like 3M will bind all the ends of your shipment box together.
Not knowing the shipment route
Suppose a customer orders a food product and it arrives at his house after 15 or more days. Naturally, the freshness of that item is long gone before it reaches its place. Always know the exact shipping distance, route, and approximate days it takes to reach a customer so that you can plan perfect packaging. It is also important to know the mode of transport for shipping. In the above case, you can group your products and send them in a faster mode of transport than the conventional way.
In this buyer-seller e-commerce space, where competition is fierce and tough, being unique is the need of the hour. Custom Packaging is the prime solution for all the impending problems faced by the packaging industry.
5 Tips to Attract Customers with Right Packaging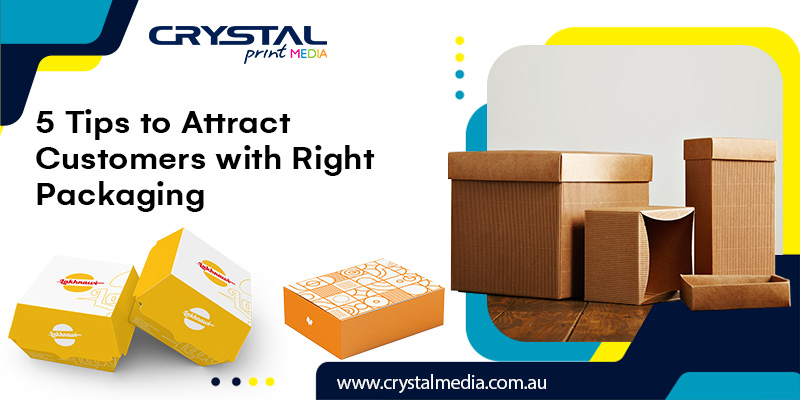 Take social media to your advantage
Today social media has a wider reach than any other forms of marketing strategies. It is a powerhouse for advertising your products and spreading awareness. Speak about your product and the way it is packed with care and diligence. Let your customers know that your company takes utmost care with high quality custom packaging.
You could also contact some influencers or even celebrities to market your products. Influencers have a huge network of followers which would benefit your business eventually.
Create a FOMO
Imagine your personalised packaging to be the garnishing of a food item. It is natural for any human being to be amazed by the presentation of how a dish looks and the very next minute you tend to order the same item when you see it on your neighbor's plate at a restaurant. So, your brains have already sent you a signal to the taste buds that it is delicious.
A similar mechanism applies in the case of product sales. In the age of unboxing videos becoming a sensation among the youth, these experiences create a sense of fear of being left out or popularly known as Fear of Missing Out (FOMO) due to buzzing trends. So, the millennials tend to buy those in the trend and those their close associates buy.
Go an Extra Mile
Your customers will love your brand more when you show that you care for them. Try adding a personalized message inside the print packaging boxes with their name on it. You could also send a gift card to a customer who crosses a certain number of orders. These small gestures will have a huge impact on your business by turning your buyers into loyal customers.
Add your Brand Flavour
Always add a slice of your brand vision, motto, or brand beliefs inside your print packaging in the form of a label or even as a note. Suppose you want to press on eco-friendly products, then showcase them in bold letters. Alternatively, if your company is specialized in skin care products, explain briefly how you aim to solve a particular skin problem.
Make it Photogenic
Play with colours. The more attractive your packaging is, the more it tends to capture people's attention. Try adding pastel shades to your custom printed packaging to give it a sophisticated look. Adding vibrant colours will also do the trick. Choose a colour that suits your packaging needs.
Allure your Customers with Magnificent Packaging
Your packaging must be as impressive as your product. Add flair to your packaging services by customizing it with a high-quality, professional print job from Crystal Print Media. Create a unique one-of-a-kind look that will set your products apart from the competition and attract customers' attention.