Mailer Boxes on a Budget: Cost-Effective Packaging for Businesses!
Here's How Businesses Can Get Custom Mailer Boxes on a Budget!
Most businesses that sell products and require delivering them to their clients commonly use packaging mailer boxes. Brands put a lot of thought and get custom-printed boxes. We will learn why it is important in the later sections of this blog.
Any custom boxes meant for shipping, be it smaller boxes to cardboard boxes, multiple boxes serve different purposes. Choosing the right custom-printed box is crucial in making the best of custom mailer shipping boxes.
From understanding how to choose the right boxes to choosing the right one for your business, we cover everything in this blog.
What are Mailer Boxes?
From creating branding value of the highest standards to great customer experiences, custom mailer boxes play a prominent role in your business.
Having boxes that are simply made for your products helps in ensuring the safety of the products within, enhancing the customer experience and brilliantly increasing the chances of brand recall.
Be it statement packaging boxes in black or of any color, the advantages of these shipping boxes are immense, from their durability and adaptability to customizations.
Hence, when choosing the corrugated boxes for your business, finding a balance between the upfront financial costs of obtaining the custom boxes with the potential benefits from custom mailer boxes is important. Read the below list of business and budget-friendly ways to order shipping boxes from a print packaging service.
How Can Your Business Get Budget-friendly Shipping Boxes?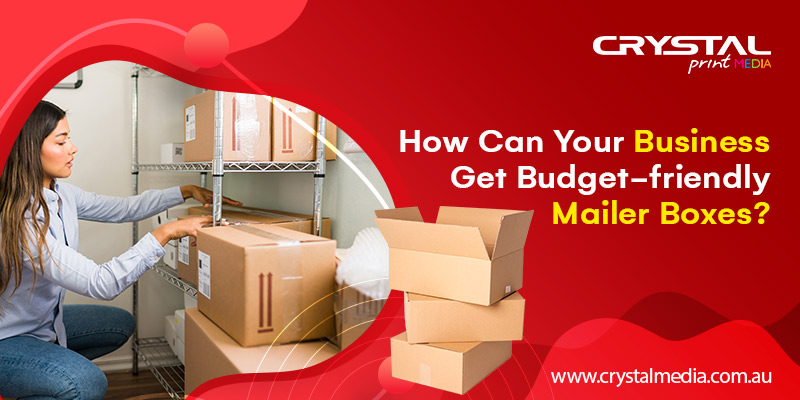 Size of the box:
The material required for the packing boxes depends on the size of the boxes. The larger the size, the larger quantities of material are required. And appropriately, larger will be its manufacturing costs. Custom-size boxes could be relatively more expensive and hence, opting for standard sizes of packaging boxes is a more economical option.
Printing costs:
The printing of designs on dispatch boxes that require multiple colors with full-color printing affects the cost of the overall box orders. Instead, going with simple designs with a reduced color palette may help bring the printing costs down.
Design Complexity:
Be it specialized die-cut shapes or other intricate structural designs for the custom boxes may lead to additional manufacturing costs. As complex designs may require elaborate production steps that increase the costs, choosing simple designs ensures budget-friendly mailer boxes.
Order Quantity:
With bulk orders, an ideal print packaging service provides larger discounts. As bulk orders ensure cost-effectiveness in expenses from setup to production, the price of the cost per unit significantly improves. Preventing orders in small quantities helps in obtaining cost-effective mailer boxes.
Material Quality:
The quality of the cardboard material used to make the mailer boxes plays a role in deciding the cost of the order. High-quality corrugated boxes with a greater thickness cost more! Therefore, opting for delivery boxes that are appropriate for the products shipped within is important.
Sustainability:
Although environmentally friendly mailer boxes may have higher pricing, showing your end-users how much you care about the environment increases your brand value immensely.
So, sometimes balancing the expenditure with increased long-term brand value makes slightly expensive, eco-friendly boxes' worth it! Or opting for product packaging services that offer both budget and eco-friendly options works best.
Customizations:
With larger customizations in your packaging boxes, be it the addition of dividers, or padding, it may add to its cost.
The additional inserts including bubble wraps, foam inserts, or other such additional materials, contribute to higher manufacturing costs. Hence, choosing your customizations carefully helps reduce your business expenses.
Sampling:
If you require samples before placing a bulk order, it is only fair. Most packaging services provide a free sampling of standard-size. But, if you require a sample for your custom mailer box, then it may not be free as it may require special cutting tools and a complicated setup. Reviewing your business needs thoroughly helps avoid making mistakes in obtaining the right samples.
Delivery time:
When you need to expedite the turnaround time for your shipping box orders, the cost may increase. Monitoring the stock and placing orders promptly prevents a last-minute rush.
Also, opting for a print packaging service that has years of experience and has spent a substantial amount of time optimizing the turnaround times is recommended.
Location:
Whether you want a print packaging service in Australia or across the globe, considering and including the delivery charges of printed delivery boxes to your location is important. Hence, choosing a packaging service with a geographical advantage helps in reducing the overall mailer box order costs.
Partner with Crystal Print Media
With over 30 years of experience in providing cost-effective packaging solutions, we have optimized the mailer box ordering process to a great extent. From providing consultation before bulk orders to getting print packaging services in Australia, we stand by you throughout!
Partnering with us long term, you benefit from more competitive pricing along with the highest quality of mailer boxes. Not just it, we are certified eco-friendly custom product packaging manufacturers, and provide budget-friendly mailer boxes that are also eco-conscious.
With the use of digital, offset, or large format printing, whichever suits your custom projects best, we provide a wide range of printing options. Get no human errors, along with a smooth ordering process to delivery of the packages. Are you curious to know more about print packaging with Crystal Print Media?