What You Should Know About Print Packaging Design
Every time you walk into a retail store, you may find yourself buying a snack packet or any extra item which you might not have required seeing the outer print packaging design in the cover. This is a common scenario that affects every individual. Call it retail therapy or a packaging design strategy!! The result is more profits for businesses.
Just like the products that captured your attention in retail stores, we tend to give more importance to appearance, looks, design and aesthetics in our daily lives.
The Psychology Behind Print Packaging
We design our homes and put a great deal of effort into planning the elevation of the building. We all know the effect it holds, like when someone steps into your home and says, "OMG, the architecture is so stunning."
Similarly, the fashion industry is ever booming ranging from the most creative designs to bizarre fashion ideas. Designer wear or limited collection wear is always the talk of the town and creates a sense of exclusivity. You know that feeling when someone says "Wow, you look beautiful in this outfit."
As humans, we all crave validation. Whether it's for our homes, outfits, or even your business products. This is because human eyes capture colourful and attractive images faster than just black and white. The brain remembers a unique, distinctive, and out-of-the-box appearance.
Don't you think, the items you sell need appreciation too? They deserve some amazing outfits as well.
Let us know the basics of print packaging design right before we hop into the print packaging.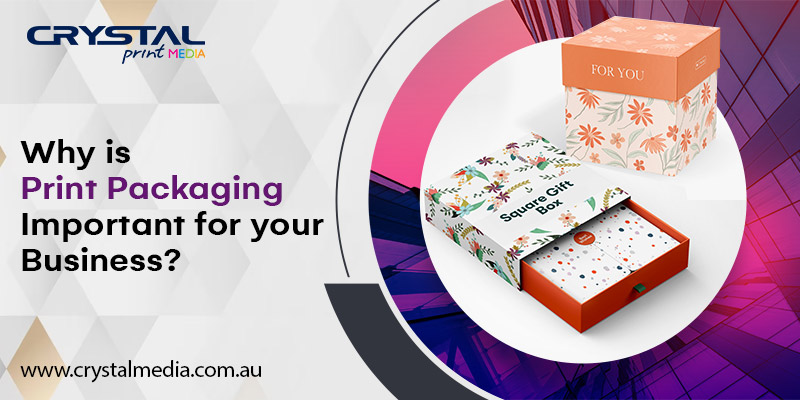 Why is Print Packaging Important for your Business?
The custom packaging industry has been in the market for decades. They have worked wonders from Coke, Chocolates to toys and many more. Custom Printed Packaging acts as a medium to communicate what is inside them. Custom print packaging is the major ingredient in your marketing strategy and the extension of your brand.
Besides the appearance, the whole unboxing of your product packaging is an experience in itself. The look, feel, touch and sound together act cohesively to captivate your senses.
Consider the case of Apple. Customers are delighted by the majestic white, shiny, and glossy packaging the moment they unbox it. With the rise in popularity of influencer marketing, businesses have seen significant increases in sales by getting celebrities to open their beautiful products. This not only piques young people's interest, but also inspires them to create similar unboxing videos to share their own experiences.
Ask these 3 Questions Before you Start your Journey
Before you begin designing your print packaging, you must be completely familiar with your product and its specifications. These are the three major questions that every company should consider:
What Do I Know About the Product?
This essentially means A-Z details about your item. What are the materials it is made from? What are its dimensions? How big, long, or tiny is it? Is the item fragile, delicate, or leakproof?
This will help you select the best custom packaging boxes for your product based on the criteria set. For instance, a tiny lip balm may fit in a cloth pouch, whereas a wristwatch might require a medium-sized box with bubble wrap to protect the ends. If your product has unique requirements, you might need a custom-sized box.
Who will Purchase the Product?
The next critical aspect of print packaging design is understanding your target audience. What demographics does the product target? Do your customers come from the young, the middle-aged, or the elderly? Is it aimed at professionals or housewives? Will men, women, or children use it? Is it focused at environmentally conscious people?
This brainstorming will help you decide on the material, look and design of the packaging. Items designed for older adults might require simple, bold and larger fonts while those geared toward young millennials might need creative and colorful fonts.
Which Retail Channel Will People Buy the Product From?
Prior to the digital era, retailers could only focus on one medium: physical stores. Following the e-commerce boom, businesses are shifting to online shopping. Customers can interact with your product through a variety of retail channels. Let us break them down:
Physical Stores- These are just retail outlets without any digital presence.
Online Shops- These are focussed on online shopping without physical presence. Customers purchase from e-Commerce stores or directly from the company website.
Multichannel Retail: They consists of multiple mediums of shopping such as both online shopping and physical stores.
Omnichannel Retail: Here, the shopping experience is integrated, where you can purchase the products online and collect them at retail outlets near you. 
Depending on the mode of purchase, your print packaging design will vary. For online retailers, your wrapping might include a custom note, a tissue, or a discount coupon inside the print packaging. Whereas for those products on the shelves, you just need to play on the colors, aspect ratio and the look of the packaging.
Make your Design Packaging Stand Out
Once you have these questions answered, the next step is to approach a print packaging design company in Brisbane. Whether you are a small business just starting, an established brand desiring to revamp your print packaging according to the latest trends, or a successful company looking to create seasonal packaging, we at Crystal Print Media are your one-stop solution.
Come with all your product details and leave the packaging to us. We will create the best designs for your packaging that help you stand out from the crowd.